The Amazon Green Cross Fund
The Green Cross Project Targets Air Pollution and Environmental Health
The Green Cross only Targets and Funds Environmental Projects which create a Real Net Reduction in CO2 ( RNRCO2)

TROPICAL RAIN FOREST PRESERVATION;
http://www.youtube.com/watch?v=6pZpanCEh8s
Click on the above link to View the Amazon Video .


http://www.youtube.com/watch?v=6pZpanCEh8s


Of all the world's great environmental tragedies , it is the most compelling, and yesterday the deforestation of the Amazon was shown to be taking a huge turn for the worse.

The rate at which Brazil's rainforest is disappearing has leapt by 40 per cent in a single year .

Vast new tracts of virgin forest in the states of Mato Grosso and Para are being put to the chainsaw, according to figures from the Brazilian government, and turned into farmland - much of it used for growing soya beans, which end up as industrial cattle feed in Europe.

What is being destroyed is the most species-rich habitat on Earth.
The South America - Amazon Watershed
It provides much of the world's oxygen .
The Amazon Basin contains 1/4 of all the World's Species
THE FUTURE
Deforestation is threatening the future of the forest - with dozens of tree and plant species at risk of extinction. The International Union for Conservation of Nature, IUCN, which monitors plant and animal species, calculates there are 382 plant species in Brazil at risk. It also classifies 343 different types of mammals as at risk.
There are also fears large-scale deforestation could contribute to global warming. The Amazon acts as a "carbon sink", absorbing carbon dioxide. But once the trees are cut down, this absorption stops. Often the wood is burned, releasing carbon; and the loss of forest cover can also lead to carbon release from the soil.
Research at the Paulista State University in Guaratingueta, Brazil, calculates an average of 22,000 tons of carbon dioxide is emitted per square kilometre of forest cut down.
The forest also releases enough water to the atmosphere via evapotranspiration to influence world climate patterns.
Forecasts of the forest's future predict deforestation will continue. The WWF predicts 30% of the forest will be lost by 2030, if deforestation continues at the 1998-2003 rates and current climate conditions apply.
Even the best case scenario projection suggests 20% of the forest could be lost, if the government's schemes for preserving the forest succeed. Article courtesy of BBC.COM /NEWS
The Amazon River Basin is home to the largest rainforest on Earth . The basin -- roughly the size of the forty-eight contiguous United States -- covers some 40% of the South American continent and includes parts of eight South American countries .
How large is the Amazon rainforest?
In Brazil, the Amazon covers surface area of 4,100,000 square kilometers (1,583,000 square miles), of which around 3.4 million sq km (1.3 million sq mi) are presently forested .
The basin is drained by the Amazon River, the world's largest river in terms of discharge .
Credit: Image courtesy Doug Morton, University of Maryland Department of Geography
For Decades the Brazilian government has been basing estimates of Amazon deforestation on high-resolution Landsat satellite data. Having satellite data that show plenty of detail of the surface is critical for mapping the total deforested area because some of the deforestation in the region comes from small-scale clearing or logging projects.
-------------------------------
Deforestation Figures for Brazil
source; www.mongabay.com


Year
Deforestation
[sq mi]
Deforestation
[sq km]
Change
[%]
1988
8,127
21,050
1989
6,861
17,770
-16%
1990
5,301
13,730
-23%
1991
4,259
11,030
-20%
1992
5,323
13,786
25%
1993
5,751
14,896
8%
1994
5,751
14,896
0%
1995
11,220
29,059
95%
1996
7,012
18,161
-38%
1997
5,107
13,227
-27%
1998
6,712
17,383
31%
1999
6,664
17,259
-1%
2000
7,037
18,226
6%
2001
7,014
18,165
0%
2002
8,187
21,205
17%
2003
9,711
25,151
19%
2004
10,590
27,429
9%
2005
7,256
18,793
-31%
2006
5,421
14,040
-49%
2007
3,865
10,010
-47%

All figures derived from official National
Institute of Space Research (INPE) data. Individual state figures.

*For the 1978-1988 period the figures represent
the average annual rates of deforestation.


DEFORESTATION IN BRAZIL: 60-70 percent of deforestation in the Amazon results from cattle ranches while the rest mostly results from small-scale subsistence agriculture. Studies have showed a close correlation between logging and future clearing for settlement and farming

Causes of deforestation in the Amazon
Cattle ranches
60-70%
Small-scale, subsistence agriculture
30-40%
Large-scale, commercial agriculture
1-2%
Logging, legal and illegal
2-4%
Fires, mining, urbanization, road construction, dams
2-4%
Selective logging and fires that burn under the forest canopy commonly result in forest degradation, not deforestation. Therefore these factor less in overall deforestation figures.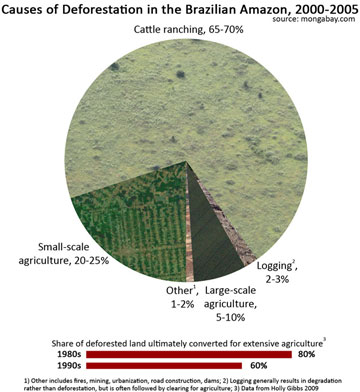 Credit to :Rhett A Butler
The above pie chart showing deforestation in the Amazon by cause is based on the median figures for estimate ranges. Please note the low estimate for large-scale agriculture. Between 2000-2005 soybean cultivation reesulted in a small overall percentage of direct deforestation. Nevertheless the role of soy is quite significant in the Amazon. As explained by Dr. Philip Fearnside, "Soybean farms cause some forest clearing directly. But they have a much greater impact on deforestation by consuming cleared land, savanna, and transitional forests, thereby pushing ranchers and slash-and-burn farmers ever deeper into the forest frontier. Soybean farming also provides a key economic and political impetus for new highways and infrastructure projects, which accelerate deforestation by other actors."
Between May 2000 and August 2006, Brazil lost nearly 150,000 square kilometers of forest—an area larger than Greece—and since 1970, over 600,000 square kilometers (232,000 square miles) of Amazon rainforest have been destryed.
Share of Amazon deforestation by State of PARA in Brazil, 1988-2005 = 33%
This Rainforest Land falls into an area which is known as the Amazon Rainforest , within The State of PARA, BRAZIL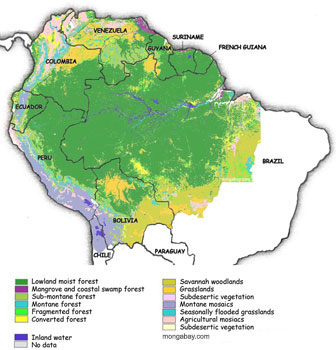 DEFORESTATION DANGER if not SAVED
This is one of the Largest Remaining Private properties in the country of Brazil today, possibly on the Earth. The property is in the Brazilian State of Para, North of the Amazon River town of Obidos .
This 4.8 million acres is larger than New Jersey and Massachusetts together , or about the size of new Hampshire and Vermont .
Purchasing this land for $30. per acre is a bargain , but priceless for the sake of the Earth's Atmosphere.
The Owner has Agreed to allow the Green + Cross to purchase this land and save it .
But we must act now !!

CEMENT REPACEMENT IN CONCRETE
The Green Cross is lucky to have as its Project Development Civil Engineer , an inventor of a replacement material for the Cement Powder , in the production of Concrete. For each and every ton of cement produced for concrete , an equal one ton of CO2 is emitted into the atmosphere, Worldwide. This replacement material for cement in concrete is superior to current concrete is several factors; It has high tensile strength as well as only the current compressive strength of concrete. Its has high thermal properties of not transferring heat or cold, as does current concrete. (Lowers air conditioning and heating costs) It costs 1/10th of current cost of concrete, allowing 3rd World homes of 300 sq.ft. to be built for as little as $300. U.S.

( Produces World Peace through providing one of the 3 basics ; food , clothing , and shelter ).

Irrigation projects in deserts can now be built to grow food, where concrete was cost prohibitive.

High rise, Roadways, Runways, can all be built from this new material .

This material is certified by renown Structural and Civil Engineer's tests and is set to be released.

This material will revolutionize the construction industry , in the USA and around the World.

And , The Green Cross will eliminate millions of tons of CO2 from being emitted into our atmosphere by its promotion of Projects utilizing this Cement Replacement Material. Cement Klinker Kilns are the 3rd largest industrial polluter of co2 , throughout the World.

In all cases, These Green Cross projects create a REAL NET REDUCTION in CO2. (RNRCO2)

Your Support of the Green Cross Environmental Project Fund is the key to success for these Net CO2 Reduction Projects.